EARS Memorial Scholarship for 2020 Awarded to Jack Stinson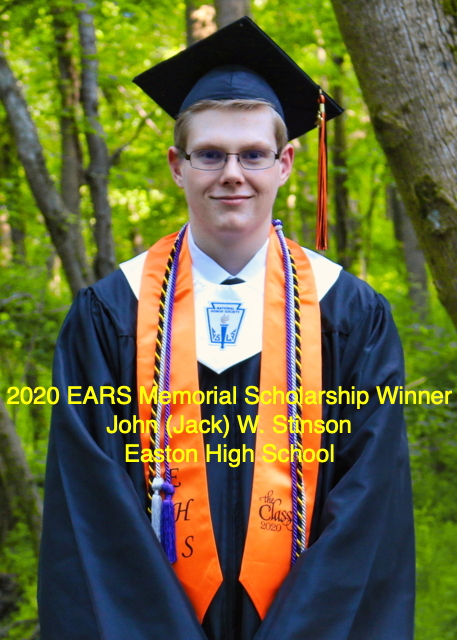 The Easton Amateur Radio Society's Memorial Scholarship for 2020 has been awarded to Mr. John W. ("Jack") Stinson, Jr. of Cordova, Maryland. Mr. Stinson is a 2020 graduate of Easton High School and will be attending the Florida Institute of Technology in Melbourne, Florida, where he will pursue a double major in Aerospace Engineering and Astrobiology. He is looking forward to a future in the aerospace industry, with the clear emphasis on the "space" part of "aerospace". The Memorial Scholarship carries a stipend of $1,000, intended to assist the recipient by covering a portion of the costs associated with college education.
While a student at Easton High School, Jack compiled an outstanding record of academic, extracurricular and service accomplishments, with grades and SAT scores in the 90th percentile and above, superb faculty and staff recommendations, multi-year participation in the ACE Mentoring Program (in architecture, construction and engineering), membership as a percussionist in the Midshore Community Band, mentoring the Easton Middle School band's drum line, and more. And just to give himself a challenge, he took three years of Latin, wrapping it up with the AP Latin course as a senior.
The Scholarship Committee conducted its business this spring via email and conference calls. After an initial review of all the applications received this year, we selected a set of finalists – all excellent candidates for the award – and did our reviews individually. When the committee got together on a conference call to select this year's winner, Jack Stinson was our unanimous first choice. Not only did his academic achievements stand out, but his interests, his approach to learning and his chosen career path dovetailed cleanly with the Memorial Scholarship's goals, established several years ago. It was the best of all possible worlds for a selection committee: an excellent field of candidates, and a clear choice for the winner.
In normal times, we would have presented Jack with his scholarship award at the High School's annual Awards Night in May, but the US Postal Service had to suffice this year. We also would have invited Jack and his family to visit us at the Maritime Museum during Field Day, when they would have had a chance to meet some of the club members and get a picture of what hams do as a hobby, in civil emergencies and just for fun. That, too, will have to be postponed until an in-person club meeting or other event later this year. Despite delays in getting Jack and the club together with one another, the committee can still look back on the 2020 selection round as an outstanding success.
Members of the Scholarship Committee this year were:
Bill Geoghegan, W3WTD, Chair
Tony Giaimo, K1VUV
Jack Gottschalk, K8PBJ
Mark McCloy, K3NEC